US Open Golf 2011: Rory McIlroy in Charge on First Day at the Congressional
Use your ← → (arrow) keys to browse more stories
Next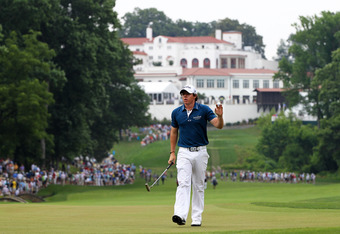 Jamie Squire/Getty Images
US Open Golf 2011 Takes a Look at Rory McIlroy's Back Nine
Rory McIlroy came out very, very strong on the back nine of the 2011 US Open Championships.  McIlroy finished his back nine with back to back birdies leaving him three strokes under par and tied for the lead after his first nine holes.  He then responded with his third straight bogey on his tenth hole of the day and now has the lead by himself.
McIlroy has seemingly had a chance at birdie on every hole and has made four birdie puts this far and has zero bogeys.
Must Read: 2011 US Open Leaderboard and Live Updates
After failing on the final day of the Masters, McIlroy looks like he did in the early rounds of the Masters.  After watching him have a meltdown at the Masters it is tough to say that he is the clear frontrunner at this point, but he is certainly making the case.
It is tough for any player to come back from such a disastrous performance, but McIlroy has done that so far and appears to be putting himself in position to win the 2011 US Open.
There has been no faults in his game to this point and he appears to be calm and collected at this point.  Mickelson was supposed to be the featured player in this group, but McIlroy has stole the show and appears to be the player to beat at this point.
Stay tuned to Bleacher Report for all things US Open of Golf related, visit our golf page for all the latest news.